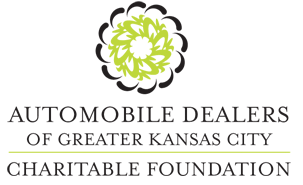 For years the members of the Automobile Dealers Association of Greater Kansas City have supported hundreds of charitable organizations and worthy causes.
Whether the effort may be as basic as sponsoring the Little League baseball team, to donating thousands of dollars to hospitals and medical research, or providing scholarships for education, the dealers recognize the importance of giving back to the community that supports them. They are happy and honored to do so. In that same spirit, the Association has established its own charitable foundation, aptly called the Automobile Dealers of Greater Kansas City Charitable Foundation.
Mission: To positively impact the lives and futures of Kansas Citians.
Currently, the Foundation seeks to achieve its mission by providing much needed support to local nonprofit agencies via grants and sponsorships, as well as assisting individuals through scholarships and an emergency assistance fund. To learn more about each of the ways the Foundation is supporting the community click on the following:

Scholarships
Emergency Assistance